Celebrity Leverage: Can Justin Timberlake Bring MySpace Back?
As June 2011 was winding down, reports came out that MySpace—once the top social network on the Internet before being overtaken by Facebook—was sold for way less than a tenth of what it previously cost to purchase it.
Rupert Murdoch's News Corp., which paid more than half a billion dollars to buy MySpace from founders Chris DeWolfe and Tom Anderson back in 2005, sold the social networking site for a reported $35 million to Specific Media LLC, whose co-founder and chief executive, Tim Vanderhook, said would build MySpace into "a digital media company on par with Yahoo, AOL, Facebook and all the other big names out there."
One of the minority investors in Specific Media's purchase of MySpace is Singer-Actor Justin Timberlake, who Specific's press release says, will "play a major role in developing the creative direction and strategy for the company moving forward." Timberlake said in the same press release that MySpace "has the potential" to be that place "where fans can go to interact with their favorite entertainers, listen to music, watch videos, share and discover cool stuff and just connect." There were also reports that Timberlake was considering turning Myspace into a talent search site, or at least considering that as one component.
While it hasn't been disclosed how much of a stake Timberlake has in Specific Media's MySpace purchase, his plans to help bring MySpace back is but another example of celebrity leverage. The idea of star entertainers and athletes owning businesses goes way back to the days of the silent movies, when prominent, yet controversial, film director D.W. Griffith, and stars Charlie Chaplin, Mary Pickford and Douglas Fairbanks, Sr. helped found United Artists way back in 1919. That historic brand name is currently owned, in part, by actor Tom Cruise.
Over the years, other examples of celebrity leverage have ranged from 1930's-through-'50s singer and motion picture cowboy Gene Autry once owning KTLA-TV in Los Angeles, as well as founding a Major League Baseball franchise that is currently known as the Los Angeles Angels of Anaheim, to singer Jimmy Buffett and actor Bill Murray being partial owners of a minor-league baseball team in Ft. Myers, Florida; to rapper 50 Cent having a stake in the company that makes VitaminWater.
The NFL's Miami Dolphins, though principally owned by real estate magnate Stephen M. Ross, count lots of celebrity leverage, with a star-studded roster of minority owners that includes husband-and-wife musicians Gloria & Emilio Estefan; husband-and-wife singer-actors Marc Anthony & Jennifer Lopez; singer Fergie of the Black Eyed Peas; and tennis champion sisters Venus & Serena Williams.
But one of the more valuable examples of celebrity leverage in the last several years comes from Oprah Winfrey. She recently retired after a quarter-century hosting a daytime TV talk show, but not before parlaying her success from that show into a TV production company and a cable TV channel.
In the foreword to Jordan McAuley's book "Celebrity Leverage" [a simple, yet appropriate title], Dan Kennedy, author of "No B.S. Marketing to the Affluent" and other "No B.S." business books, says that having a star promote one's product or service—a concept that could extend to being a partial owner of such—means more "buzz" and better advertising, as well as reduces the need to buy advertising and lowers the overall costs of acquiring customers.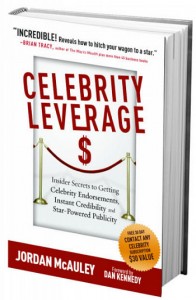 "If you're not actively and creatively linking your business to celebrities," Dan concludes, "you're ignoring the single most significant trend in advertising and marketing of our times."
Specific Media must have done quite a good job linking Justin Timberlake to MySpace. And considering that Justin himself played original Facebook executive [and Napster co-founder] Sean Parker in the Oscar-winning hit 2010 movie "The Social Network," not only is his ownership stake in MySpace an example of celebrity leverage, but also one of life closely imitating art.
Do you think Justin Timberlake is serious about bringing MySpace back? Or do you think it'll be, as he and his 'N Sync buddies used to sing, "Bye Bye Bye" for MySpace?