YouTube Live: Late to the Party?
Over the last four years or so, a few websites have sprung up to offer anyone with at least a webcam and broadband the ability to do live TV online.  Websites like uStream, Justin.tv, Stickam and Livestream have made "lifecasting" and other forms of live streaming video possible.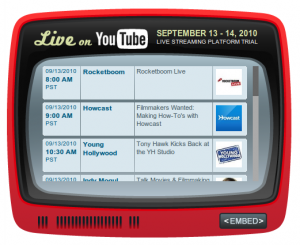 Google's YouTube, which has been famous for hosting video clips past and present, homemade and otherwise, had also been doing some occasional video streaming of live events during this time.  But that is nothing compared to what they have just come up with.  Yes, they're venturing into what had been the territory of uStream and the others by starting up their own live streaming video service. Might they be late to the party?
Maybe not, thanks to YouTube being so well-known and well-established, with over 2 billion views a day. I used data from Alexa, which monitors website traffic, to figure out that YouTube, at #3 in terms of page views as of the time of this writing, is well ahead of uStream [421], Justin.tv [423], Livestream [1111] and Stickam [5335].
Yes, competition is good, and with YouTube's top-of-the-chart traffic, I wouldn't be surprised to see YouTube Live bring on more and more live video webcasts of shows and events to put them on a level with the uStreams and Stickams of the Internet world. The matter then becomes one of how those other streaming services will be impacted by the YouTube Live presence?
From what I have seen of YouTube Live's video interface, it, like the others, does allow comments while the shows are in progress, despite some variations in design. I also notice that YouTube Live doesn't have as many of the "pre-roll" or "interruptible" commercials that you'd find on them, at least not for now. Perhaps, I would think, Google can afford to not do "pre-roll", but I wouldn't hold my hopes up on YouTube Live going without "pre-roll" advertising forever.
At the same time, what YouTube Live is doing now allows only "certain YouTube partners with accounts in good standing" [no violations of copyright or Terms of Service] to provide live streaming video through a "beta platform" that is expected to improve "incrementally over time." One thread on a YouTube help forum, though, asked if it's going to be "spread out to the masses eventually?"
YouTube has said in response to a similar question elsewhere in the forum that they "have no plans to roll this out to all users," although they also said separately that they're "working hard to enable the feature to as many partners as possible over the course of 2011."
So for now, while I applaud YouTube's initiative in creating its own regular live streaming service, I think that the current requirements for going live on YouTube, at least for the time being, may be somewhat limited, if not restrictive, if only because they expect you to have uploaded your own original content. But bearing in mind that it's only in beta testing, I will hold out some degree of hope, though, that people who haven't done anything original yet on YouTube, but have done so on uStream and other such places, will get their chance.
Do you think YouTube Live is a good idea?  Or do you think it has its flaws compared to what's already out there?