Zynga on Wall Street with Sheep—Yes, Sheep.
CityVille, FarmVille, and Mafia Wars are part of Zynga's portfolio. Zynga is considered one of the fastest growing startups with no end in sight. To be realistic Zynga is doing great, but at a big cost. Games like FarmVille do very well in the first 6 months. After that, the numbers fall drastically, in fact so much so that CityVille peaked in one month, then showed decline by the three month mark. But that doesn't deter a company like Zynga. They reinvent the games, at the latest outing by the company, does just that.
Zynga showed up on Wall Street with a few sheep. Yes, sheep. The company was promoting FarmVille English Countryside, the expansion to its popular FarmVille. With Zynga being valued at around $10 Billion, it's easy to see how they can march sheep around the Big Apple.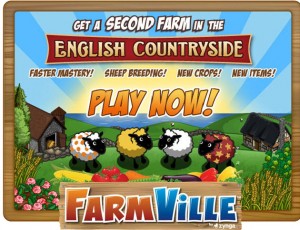 Zynga continues to add gaming talent to its ranks, it evolved with the gameplay from FarmVille, its first breakout hit, into CityVille, an even more successful game in terms of user ramp and monthly active users. CityVille reached 100 million users in just 43 days. However, CityVille has peaked after its initial growth, and lost almost 5 million monthly active users in February alone, just three months after launch. CityVille is still increasing daily active users, but the writing is on the wall: CityVille will follow FarmVille's decline, only faster. Now the next iteration of FarmVille, is destined for the same cycle. Rapid growth and even faster decline.
At this point the only way Zynga can survive is by creating franchises from its portfolio. We see now that FarmVille English Countryside is just what they are trying to do. At some point all simulation games become too large to manage, Zynga will have to explore ways to grow the game while keeping users in the game by allowing them to manage the game effectively. Another task for Zynga at this point is keeping the audience in simulation games. Let's not forget that SIMS have been around a while. How to make them better is what Zynga must face now.
Do you play FarmVille or CityVille? Let me know what you think?